FALLEN FIVE MEMORIAL : "WREATH OF HONOR" by Shane Albritton and Norman Lee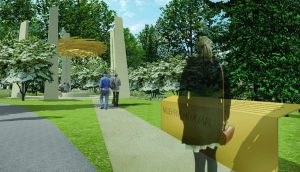 The memorial, designed by Albritton and Lee, will honor the five men who lost their lives during the July 16, 2015 tragic shootings at the Armed Services Recruiting Center on Lee Highway and the U.S. Naval Operational Support Center and Marine Corps Reserve Center on Amnicola Highway.
The memorial concept is inspired by the symbolic form of the wreath; representing the notions of eternity, continuity and memory. In the military tradition of wreath laying, this gesture recognizes honor and sacrifice. This memorial wreath marks the Riverpark site made sacred by the attacks that occurred on July 16, 2015 at the nearby US Navy Operational Support Center. It also acknowledges the acts of kindness and strength that followed, in the form of memorials and vigils held at the TN River Park.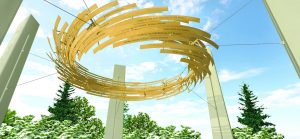 POWERFUL WORDS OF TRIBUTE
The community is being asked by the artists to suggest thoughts and sentiments that will be cut into the metal bands of the suspended wreath. The wreath will include 75 phrases. Some sentiments already gathered include: "Nooga Strong"; "Home of the free because of the brave"; and "Never forget".