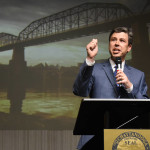 Just this past Monday, I gave my second State of the City address to a room full of Chattanoogans. If you were able to attend tonight, or just watched it on live stream, you'll agree that it was incredible to see so many people come together to celebrate our accomplishments (
check out the State of the City video
!) and discuss our challenges as well as chart a unified path forward.
That path includes four new priorities for government I was proud to announce tonight.
To ensure all students can attend our local colleges without living in fear of their classmates, the City and the University are entering into a community compact to address sexual assault on campus.
To help capitalize on the talents of everyone in our community, I have asked Representatives Jo Anne Favors & Dr. Carol Berz to co-chair the Mayor's Council for Women and make important policy recommendations to the City.
To ensure new jobs in our growing automotive sector go to Chattanoogans first, VW and the City have joined forces to launch a task force to prepare our residents for employment at our automotive companies.
Tonight, alongside EPB, I announced the creation of the Netbridge Student Discount program to ensure any family of a child eligible for Free and Reduced Lunch can receive 100 megabits per second Internet at a cost of $26.99 per month.
The state of our City is strong. It will only get stronger in the years to come. Thank you for your support and hard work over the last two years, as we work to build the greatest
mid-sized city in America.
We couldn't do it without you.
Andy